For years now the show is held in the "Twin Messe" conference facility which is too far to walk (and too hard for a visitor to find). From the station I went to the South exit looking for the Hobby Show shuttle bus. It was tough since there were many other buses coming and going, some parked, and everything is in Japanese! I just stood there hoping that a line would form and sure enough I spotted a line in the distance, growing at 5 people per sec, and by the time I got to it the line was almost encircling the block!
I had to wait for the third bus to arrive and winding through many large and small streets, including super-narrow alleys, we finally arrived after about 15 min. I then noticed that there was a sea of people by the sidewalks and plazas around Twin Messe all looking up – it was the Blue Impulse aero-acrobatic team (like our Blue Angels) zooming overhead! I was so impressed by the enthusiasm and applause of the crowd whenever they flew by – a tribute to Japanese patriotism and National pride.
The Shizuoka Hobby Show is held on the 2nd weekend of each May for 4 days, this year being on May 12th to May 15th, weekend after the National Golden Week holiday. The first two days (Thurs and Friday) are reserved for dealers and distributors only and are closed to the public. The last 2 days (Sat and Sun) are when enthusiasts and their families can attend free of charge. Doors open promptly at 8:30am and close at 5pm.
Right in front of the Messe building were three Japanese self-defense vehicles (they do not say "military" as Japan is barred from creating an offensive force since after World War II): JGSDF Light Armored vehicle (which Tamiya models in 1/35 scale), a humvee-like transport and what looks like a light infantry armored car.
As you walk past the big welcome sign the show is contained in two separate halls.
The left hall houses the manufacturers' exhibits, the size of each booth largely proportional to their respective market domination. To the right is primarily the Model Clubs display area but Hirobo's (R/C company) booths were here as well, presumably too big for the other hall!
The model clubs was a show in itself – there was a whopping 142 different clubs displaying their work, from every special interest group you can think of: cars, bikes, planes (military and commercial), AFV, buses, trains, figures, mecha, Gundam, wooden boats, wooden planes, Gulf-war AFV, Japanese SDF (self-defense force) vehicles, models that light up or operate, 1/16 R/C tanks demo, etc. There was even a Miyazaki Mecha Builders group (famous animator of Academy award-winning movie Spirited Away) and one club specializing in Pontiac GTOs!
Prominently located on the center aisle as you walk into the hall was a podium where the current as well as past TamiyaCon winner models are displayed. Some past winners must donate or loan their work to Tamiya.
I rushed to see the entries of two of the winners I bumped into at RainbowTen hobby shop yesterday:
Daniel PerezVertti's 1/32 F-16 fighter (Best Finished award).
Oh they were the best models I've ever seen! This year's winners attracted a lot of attention, and I saw many locals take professional photographs, with their tripods and humongous lenses, probably for hobby magazines. . By the way, just a word of caution that I am primarily a car and motorbike enthusiast these days so my pictures will show bias towards them!
Japanese consumers are known to be very quality conscious and only expect the highest quality products. Well, Japanese modelers seem to have the same commitment and passion when it comes to their modeling! The quality of the work displayed by the clubs was mind-blowing. Not only was each build very clean but the presentation was so professional. Each model was perfected in every way, whether it be weathering or a mirror finish, each was also presented in its own appropriate base. How I wish I could pick the brains of these devoted modelers! (if I only knew more than just sumi-masen!)
I met two Westerners there who live in Osaka teaching English and it was so refreshing to be able to yak off in English! They were so nice and introduced me to a few of their model club buddies. Brian Keaney from the U.S. will be featuring his 1/48 MBT-70 in an upcoming article in AFV magazine. Scott is from Australia and he did an awesome 1/35 diorama.
---
Manufacturers' Exhibits
There were so many interesting technical sessions to attend but unfortunately they were all in Japanese! Even new products on display like tools and solutions are all captioned in Japanese so I couldn't be sure what they're for (some labels had English but still insufficient). When I try to ask the attendants, well, they just apologize for not knowing English!
Most manufacturers had their products stacked on the floor for sale (limited by their booth size) and at a generous discount! This was the most exciting part of attending the show! Of course looking at the new releases and superb built-ups was bliss. A few booths also had bins and bins of bagged plastic sprues for spare parts I guess, each around $1 or $2. I only had one day at the show so I really had to keep moving lest I miss something grand.
The demos took a long time (again all the dialogue was in Japanese, sigh) and with the large crowds sometimes you have to wait for the next demo to get a good view. The large demos like with Hirobo had cute MC girls in exquisite uniform over loud speakers. They sure were enthusiastic and did lots of bowing! The BANDAI booth had a real race-car (with BANDAI sponsoring of course) including one of the race girls in a red dress mini-skirt holding a red umbrella!
Several manufacturers are into robots! I'm not sure if they're for sale or were they engineering prototypes for company marketing / image. Hirobo had one (guess the name – HIROBOT) that could climb stairs, jump off a ledge, fall off a ledge and land on its hands/knees, dance, jump, run, and even gesture the audience to applaud! Its movements were so smooth and its body so nimble that I was quite impressed. Hirobo also has these caged areas where they demo'ed their new indoor flying helicopters with the 2 opposed blades – it's supposedly so stable and much simpler to fly.
Here's a partial list of exhibitors that I can remember: Tamiya, Fujimi, Hasegawa, ARII, Nichimo, Aoshima, Bandai, Doyusha, GSI Creos (formerly Gunze Sangyo), Platz / Tasco, Studio 27, Kyosho, EBBRO, Futaba, Italeri (w/Tamiya), Heller/Airfix (with Creos), Revell Monogram, Tokyo Marui (bb guns), Kotobukiya (figures), photo-etch skeleton planes, book publishers (HobbyJapan & HobbyMagazine).
---
Tamiya
As you would guess, Tamiya had the largest and most extensive display presentation. There was a section for new releases as well as an entire display case for their Masterwork Collection, including their 1/12 discast cars. There was even an area for their joint marketing efforts like: Italeri kits, 1/144 plane kits by Sweet Hobby, some diecast 1/9 motorcycles from German outfit Dickie, etc.
Tamiya had consultants on hand discussing their new model releases (1/32 F16 Thunderbird and some 1/24 rally cars), R/C car demos and of course, a dangun race track. Kids can buy and assemble a racer and run it on the track. There was a table setup with sessions on how to use modeling tools, airbrush demos, how to work with photo-etch, weathering techniques, etc. And of course they did it all in, you guessed it, Japanese!
Discounts for Tamiya kits were awesome! They had their 1:12 Enzo for about $330, bagged tank kits for $8 - $15, and bagged 1:20 F1 kits for $10. The new 1:24 carrera kit was $18. They also had sub-standard bagged kits, like a 1:20 Ferrari F189 molded in dark gray (rather than the standard black/red) and a 1:20 MP4/2 kit in an un-marked black box (looked like the instructions had no cover page)! The freshly re-issued 1:72 Japan torpedo boat kit was $34. I heard they also run these discount stores during their annual TamiyaCon model contest in California.
---
Fujimi
Fujimi had a respectable size booth, showing off their awesome built-up line of 1/16 cars (that are being re-issued). They had a sleugh of kits for 20% off including their 1/12 Skyline race car series.
---
Hasegawa
Not much to be said here except that their booth included Revell Monogram's display of a large slot car racing track, and some 1/9 motorcycle built-ups from Revell Germany, among others.
Hasegawa also displayed some stuff from FineMolds' Star Wars kits, with Episode III trailer playing in the background and drawing a large male crowd! Oh by the way Hasegawa is into soccer dolls now, about 1/6 scale! Each doll can kick, by pressing a button on their back like a GI Joe.
---
Studio 27
Their booth was tiny but it was almost always crowded! They were selling resin and upgrade kits at about a 25% discount. I couldn't resist and picked up one of their pricey 1:24 McLaren F1 GTR kit, as they had gorgeous built-ups on display! They also displayed assembled but unpainted prototypes of some of their upcoming F1 kits.
---
Gsi Creos
This is a company that seems to be into some kind of machinery business, and now diversified into the hobby business by purchasing Gunze Sangyo. The Gunze brand is now replaced by "Mr. Hobby" for both kits and paints. I picked up a few 1/12 High-Tech motorcycle kits for $30! They are also marketing a series of cute anime-like figures under the brand name VANCE Project. They were also running demos with their ultra-quiet air-brush system and Mr. Hobby paints.
For more information on the hobby show and new products announced, see the following cool links:

HobbyLink Japan's video clips of the show can be found on their homepage > Here, including new product releases as well as a short clip of the show opening ceremonies at > Here

New Tamiya products announced > Here
---
Excursion to Tamiya HQ
I actually arrived Shizuoka a day earlier on Fri to visit the famed Tamiya HQ / Spectrum Hall! It was another dream come true as I pulled up to the Tamiya building – an image I've ingrained into my brain from pictures I've seen. At first I tried to find the Tamiya HQ building on foot, as the map on Tamiya's site made it look simple and easy, and it seemed near the Shizuoka train station. But after wandering around narrow streets and neighborhood shopping areas I decided to retreat back to the station to catch a taxi! And was I glad I did as the taxi ride there turned out to be not only complicated but also quite far. Besides, the taxi fare was not bad at around 1,259 Yen (US$12).
On the way there I noticed some fenced parking lots bearing the Tamiya sign, which I presume were reserved for employees (as you know parking is a real problem in Japan's cities). As I entered the HQ compound I see cars and trucks bearing the Tamiya logo, some large cargo trucks were even painted with Dangun racers in action!
---
The Setup
This HQ location is actually comprised of two buildings: one is Spectrum Hall which is basically the visitor center.
Next to it is another building that is home to the HQ office, marketing, photo and graphic studio, library and even Mr. Tamiya's office (I think). I know this from reading a building directory on the wall of one of the hallways leading to the Archive Room (the hallway was also decorated with prints of model kit box art!). I also passed by some conference rooms, and was hoping to catch some secrets! I was so tempted to just "accidentally" wonder into the library on the 3rd floor (ask for forgiveness rather than permission) but my ethical side got the better of me.
As I entered the main doors there is a real-life Isuzu race engine (cut-away) on my left, and a sharp 1/12 enzo in a case on my right. After signing in to the receptionist, I was ready to explore! The map below shows the basic layout of Spectrum Hall. (Not to scale)
Caveat: In the interest of prudent time and effort, this article will not be an exhaustive walk-thru of every item on display! For that you'll need to visit this awesome museum yourself! I spent around 4 hrs there (the minimum for serious Tamiya fans, in my opinion) and still yearned for more study time!
The hall was dead quiet, very clean and with ample space in the waiting areas for short meetings. Each corner table has a couple of empty kit boxes displayed, and various Tamiya publications. There is a binder of catalogs and various company reports, and also a binder of Tamiya News booklets past and present.
---
Real Vehicles Display
A few steps up takes you to the display area of real vehicles:
Formula 1
Tyrrell P34 6-wheeler (the yellow was actually fluorescent!), Lotus 91 (did Tamiya make a kit of this?), Lotus 102 (kit boxes and completed models of this car sits on the real car). By the wall near these beauties are nose sections of the Lotus 102, 102D, 72D, and of the Tyrrell Ford F1. There is also a rear-wing side panel of the Wolf WR1 Ford.
Misc Cars
To the right is a vintage Subaru, an army jeep and a rally Toyota Land Cruiser (of which a 1/32 motorized kit is available), among others. An older 70's Porsche 911 street car (I think Tamiya just released a 1:24 kit of this car).
Motorcycles
Harley FLH1200 (Tamiya made a 1:6 kit of this bike, kit is now extremely rare), Kawasaki Z1300 (1:6 kit), Honda CX500 Turbo (1:6 kit), Honda VFR750R (1:12 kit), Yamaha Phazer (1:12 kit), Honda Gorilla (1:6 kit), Suzuki Hayabusa (1:12 kit).
Next to them is an actual injection mold machine, even showing the mold plate used, and actual sprues produced, collecting in a box (can take for souvenir). The sprue is for a complete 1:12 beluga! A table nearby shows the polystyrene pellets in different colors before being molded.
To the left of this machine is a display case with built-ups of F1 cars driven by Ayrton Senna.
Then there are these 2 shallow box displays in which you can look down into (viewable only thru a horizontal glass pane), showing various models with cut-away sections!
There are also several framed wall displays of a model parts layout. Every part is already painted but nothing is assembled, but the parts are arranged so symmetrically and aesthetically that it is a work of art in itself! You probably have seen such layouts pictured in the underside of some tamiya catalog front pages. Below is such a blow-up display for the 1:12 Tyrrell P34, 1:12 Renault RE-20 Turbo and the 1:6 Honda1100R bike, respectively. Some of these displays are actually in the Archive room.
Another nifty display is a scale replica of a boy and his father in a hobby shop! The father is apparently buying him a Tamiya 1/35 German 88mm Gun kit. Just look at those miniature built-ups in the display case! For added authenticity, the shelves containing model kits (you only see the box edge art) includes Hasegawa, Fujimi and other manufacturer's kits!
---
Showroom
I believe the purpose of this room is to showcase new and current product lines. I noticed there is a built up of each new bike, car, AFV, plane, ship, R/C kit as well as accessories like they're new line of Sable hair paint brushes. As you would expect, the quality of each build was extremely clean and professional. But of course they do not add any aftermarket details – everything is built box stock. Consequently not all of these works will be award-winning when compared to masterpieces of devoted / serious modelers. For instance, TamiyaCon winning entries generally surpass these display items in quality and time expended.
There were some 1:6 motorcycle built-ups here that I've always wanted to see, but unfortunately many of them are in disrepair, or appear to be built in a hurry. This is certainly understandable since, being a modeler myself, I know how hard it is to keep my built-ups maintained – and I only have a fraction of their collection! Tell you what, being in a room with so many models professionally presented was so awesome! Sometimes an autographed kit box is displayed alongside its built-up, like a race car or motorcycle, which I presume is that of the winning driver.
---
Archive room
THIS ROOM IS THE ULTIMATE HEAVEN FOR COLLECTORS. I don't think it has one of every product they've ever produced but for sure this is the largest and most comprehensive collection of early Tamiya products I have ever seen.
Unlike the showroom there are more kit boxes here than built-ups, or should I say: not every box has an accompanying built up, but every built-up has an accompanying box, though I don't claim to be 100% sure! The room is rectangular, I would guess 28' by 25', around 700 sq ft of model specimens! Again, many built-ups were in disrepair, and naturally so since most of these items are out of production which means replacement parts are no longer available. It would be too expensive to make replacement parts just for doing restoration, even if they could (note that some molds are destroyed or recycled).
The R/C shelf is pictured below.
The 1:6 motorcycle and 1:12 car collection:
Some vintage AFV kits: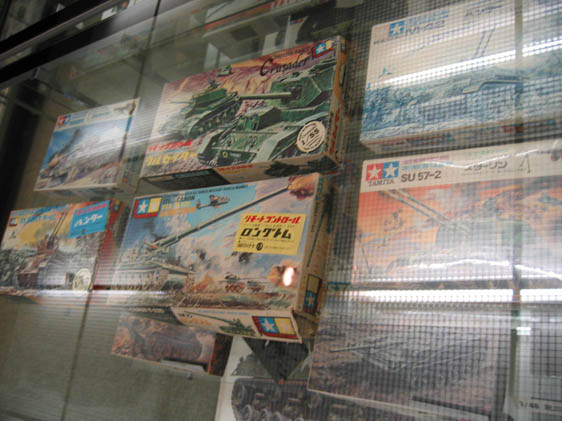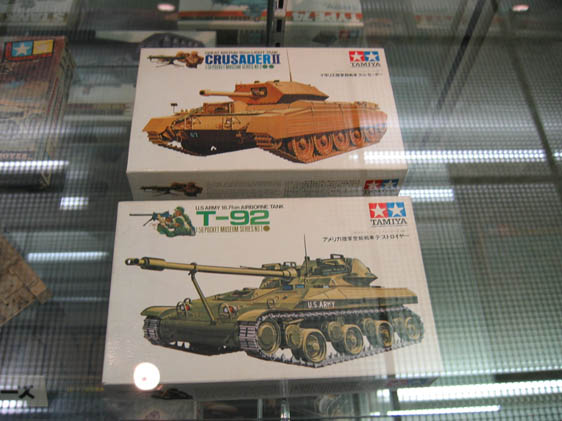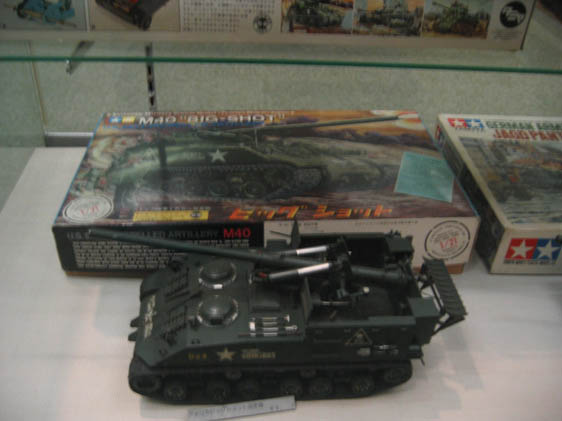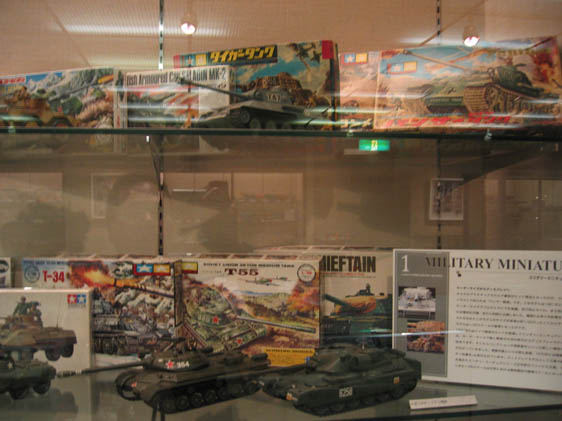 Rare airplane kits! Can you imagine what those mint 1:250 matchbox plane kits in their display carton (left end of picture) would fetch on eBay?
1:24 Slot cars! I didn't know they even sold a complete track kit.
Look how rudimentary these cars and tanks are!
Wooden battle ships on the bottom shelf. The kit boxes were basically brown cardboard, with a paste on art/label, then its cover pulled shut by a string wound around a button (like you see in some US government envelopes).
The huge 1:50 scale multi-media Japanese war boat:
A 1:20 scale Formula 1 diorama:
These shots are from a Formula 1 display case:
The rare 1:12 McLaren MP4/6 Honda Clearview!