Legal Notice
No material from Modeler Site any Web site owned, operated, licensed, or controlled by Damian Covalski may be copied, reproduced, republished, uploaded, posted, transmitted, or distributed in any way, except that you may download one copy of the materials on any single computer for your personal, non-commercial home use only, provided you keep intact all copyright and other proprietary notices. Modification of the materials or use of the materials for any other purpose is a violation of Damian Covalski's copyright and other proprietary rights.
Read More here > Legal notice
---
I think we can all agree the RE8 is not the most colourful Biplane in the hanger, but it wins hands down for character. Nick named 'Harry Tate', cockney rhyming slang for the Scottish music hall comedian of the same name.
---
Looking at the kits plans the rigging looked daunting to put it mildly. Not only that but there is also additional rigging on the top wing as well, oh dear!

We all know of Wingnuts much deserved accolades so instead of repeating how good they are lets deal with rigging which modelers seem to dread. Building biplanes are a passion for me and rigging in particular. So let me show you what can be achieved.
---
Gold Zack to the rescue
It appears the RFC rigging and control cables look very bright, almost white in some pictures, so E-Z Line was out. What is better is Gold Zack. This is a semi transparent elastic thread. Plus the reel contains over Two Hundred meters of it, enough to see me out!

Bungee cord is added to the Scarf ring using Gold Zack elastic thread.
---
Always cut off more than you need
The cockpit side frames received its cross wires first. Anchoring one end first with medium strength super glue, just allow it to dry for a minute, no real need for accelerator . The spare end is then gently stretched across to its adjacent corner and glued in place. Here that's the first one in place about sixty more to go!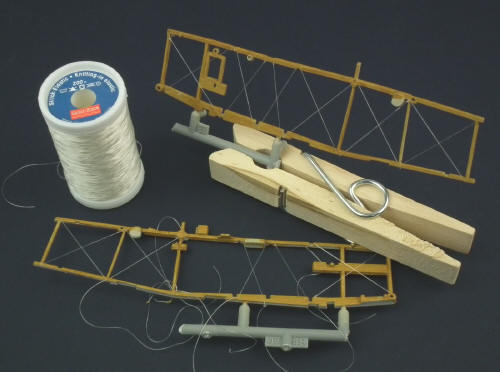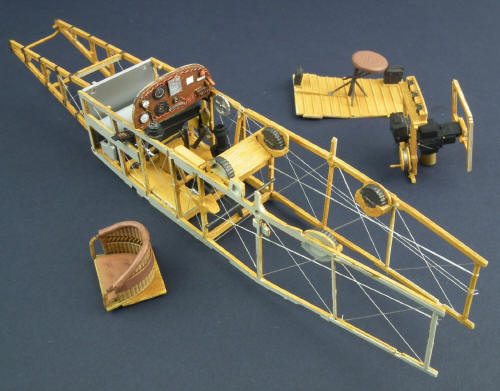 Could not resist adding all the internal wires. The instructions are easy to follow for this stage.
---
Esta Nota es ofrecida en formato PDF, el cual puede ser leído o impreso usando el Acrobat reader, contacte a nuestro webmaster > Aquí
Incluye más de 52 imágenes, aquí solo mostramos las paginas de texto.
This note is offered in PDF format to be read or printed using Acrobat reader, contact our webmaster > Here
Includes more than 52 pics, here we show only the text pages.
---
Big size photos are only available in our PDF format.
---
Support us ordering our notes in PDF > Here