Legal Notice
No material from Modeler Site any Web site owned, operated, licensed, or controlled by Damian Covalski may be copied, reproduced, republished, uploaded, posted, transmitted, or distributed in any way, except that you may download one copy of the materials on any single computer for your personal, non-commercial home use only, provided you keep intact all copyright and other proprietary notices. Modification of the materials or use of the materials for any other purpose is a violation of Damian Covalski's copyright and other proprietary rights.
Read More here > Legal notice
---
If I had to choose my favorite aircraft from the WW1 era, it would have to the Albatros D.V. For me it has a certain character and design which makes it stand out from the crowd. Add the four different colour schemes included , with more on the way, makes it a must buy for the discerning modeller.
---
| | |
| --- | --- |
| Among the usual high quality mouldings and Cartograph decals is a small photo etch fret holding the seat belts and exquisite cooling jackets for the twin Spandaus. In fact have a look at their web site which clearly shows the contents even close ups of the sprues. | |
| | |
| --- | --- |
| | |
| There are common sprues for both the D.V. And the D.Va. Therefore some minor surgery is required to remove the D.Va pulley inspection covers. | Dry fitting is the name of the game for any model. As you can see the wing to fuselage joint is perfect ( you may here this word a lot with this model) |
---
Building
The instructions do illustrate a rather crowded interior but it is incredibly easy to build. I found that I had to use nearly every different type of paint available to complete it . Oil paint for the wood effect, Alclad on the metal parts , acrylics on the remainder and finally an dark enamel wash over the seat belts. An education on its own.
| | |
| --- | --- |
| | |
| There are some sink marks on the interior. However since they cannot be seen on the finished model, even with the engine compartment exposed, I left them as they are. | Careful masking is required before applying the oil paint wood grain. Good preparation is the key to all modelling stages. |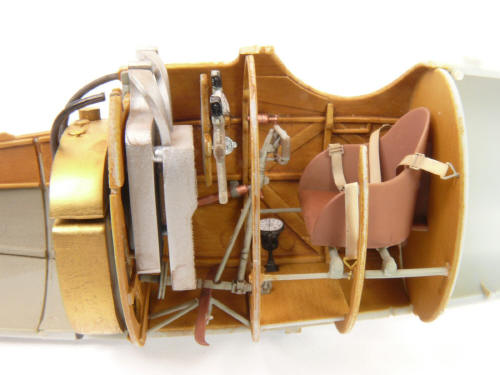 Even without using any special painting effects and just following the instructions paint guide I ended up with a presentable cockpit.
---
Esta Nota es ofrecida en formato PDF, el cual puede ser leído o impreso usando el Acrobat reader, contacte a nuestro webmaster > Aquí
Incluye más de 46 imágenes, aquí solo mostramos las paginas de texto.
This note is offered in PDF format to be read or printed using Acrobat reader, contact our webmaster > Here
Includes more than 46 pics, here we show only the text pages.
---
Big size photos are only available in our PDF format.
---
Support us ordering our notes in PDF > Here