Allied-Axis N°3 Tank transporters of WWII Part I
Publisher: Ampersand Publishing
2001 edition
Size: 278x215 Soft cover
96 pages
189 b/w photos and drawings of details
---
This volume focuses on the FAMO and its trailer Sd Ahn 116, the Dragon Wagon and its variations M25; M26; M26A1; M15 y M15A1 and, although not mentioned on the cover and not exactly a tank transporter, the Scout Car M3A1.
---
The paper is really of a high quality and the printing of pictures is well above the average. You can even appreciate details on old pictures.
I must say that I was expecting another thing as I received the book: being used to the Concord style I expected many pictures of several vehicles. Instead, Ampersand Publishing has included just a few big pictures (most of them cover a whole page) of a few vehicles.
We can see a series of pictures of the FAMO showing the procedure of loading and towing a Panzer III, as well as the change of its engine. It also presents the Dragon Wagon in all its versions (included those of the post war times) loaded with all type of imaginable artifacts. The book also offers a series of drawings on the operation of the hydraulic jack and the use of all accessories.
Although the information on the FAMO is not interesting if we want to superdetail a model (maybe it is not necessary?), it is really interesting to see step by step the complicated German method of recovery. On the contrary, the attention given to the detail of the tractor head of the Dragon Wagon is of the highest quality, with a series of current pictures of a well kept model. The trailer itself is not so well documented.
The coverage of the M3A1 is mainly based on a beautiful restored model and a series of drawings taken from the manual. This is ideal if you wish to superdetail an Italeri kit.
Maybe the most interesting aspect of this book is the information it provides. It not only complements the pictures but also provides highly interesting historical and technical data. This book is written in English. There are no profiles or color pictures, nor 1/35 diagrams.
---
Conclusion
Recommended for those people interested in technical features and historic events.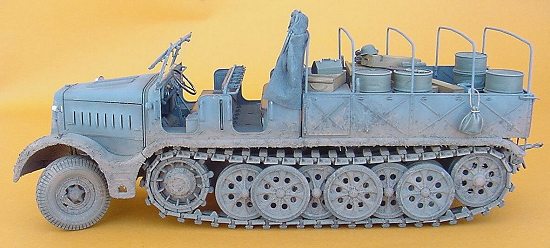 Tamiya Famo, 1/35 scale
---
Support us ordering our notes in PDF > Here