Legal Notice
No material from Modeler Site any Web site owned, operated, licensed, or controlled by Damian Covalski may be copied, reproduced, republished, uploaded, posted, transmitted, or distributed in any way, except that you may download one copy of the materials on any single computer for your personal, non-commercial home use only, provided you keep intact all copyright and other proprietary notices. Modification of the materials or use of the materials for any other purpose is a violation of Damian Covalski's copyright and other proprietary rights.
Read More here > Legal notice
---
The sports world usually presents situations that are hard to understand, and Formula 1 is certainly no exception to this rule. The Ferrari 312T5 is a good example. Back in 1979 Jody Scheckter won the drivers cup with a Ferrari 312T4; it had been a good year for Ferrari since the team had obtained several victories and had been a strong contender in almost all races. In 1980 Ferrari decided to introduce some improvements to its T4. This is the birth of the T5, the last car of the "T" series and the last F1 car to use the 12-cylinder Boxer engine.
Everybody though that a car with such a good performance the previous year, now improved, would be an important part of this championship. But that was not the case, the Ferrari 312T5 was a complete failure. There even were some races where Jody and Gilles almost did not qualify. Jody quit F1 too early, maybe due to that poor performance and Ferrari decided to introduce its new turbo model before year end.
---
The kit
But for those of us who usually build scale cars, this is another thing, it was the last T!! In addition, it is much more streamlined than its predecessor and offers some new challenges.
Originally, my idea was to build a T5 taking a Protar kit as a basis, and then compare it with the T4. But here it comes the story of the Protar's T5.
By late 1978 Ferrari introduced a 312T4 which had a completely different aspect never seen after in the circuits. The shape of the rear part of the body was completely different to the one finally adopted, it had no air vents for the brakes and used a sequential gear shift operated from the steering wheel which was finally never used, but was the origin of what F1 cars use nowadays.
The Protar people developed their kit based on this car, but it was obvious that they did not get good references and only used photographs in order to quickly release the model.
Protar's T4 is 1 cm narrower than Tamiya's (which is correctly in scale) and the chassis has some differences as regard shapes and sizes. Protar's engine is 5mm shorter and, in general, some mechanical parts are not accurate in regard to their shape and location.
Protar's T5 is like the T4 but with different body (cowling and nose)
While it is true that the Tamiya kit is correct, there are many details missing, but they can absolutely be added with some plastic wire and the help of photographic references of the real car. It really had no sense to build a model in order to visualize changes if everything was different from the starting point.
Therefore, I finally decided to modify the Tamiya's T4 kit in order to build my T5 model.
I would like to make it clear that I am not criticizing Protar kits. I have built many of them in the past and they are very useful for me at the present time. In addition, you can build a T4 from a different point of view, at a different time and enhance your collection.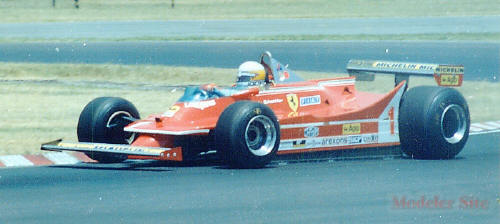 Ferrari T5 GP of Buenos Aires 1980
---
Basic differences
As I had already purchased the T5 kit, I decided to make use of all useful parts, but at the same time save all necessary parts to build a T4 model some time in the future (a friend of mine gave me a body from an old Protar T4 that he had never built which supplied two bodies, a red one and a clear one).
The good thing about this Protar kit is that it supplies all parts (with the exception of the cockpit cowling) of the T4 and T5 models.
I had a Tamiya's T4 which had generously "donated" some of its parts to several other models: a T3, T2, etc. With a good deal of patience I managed to get some basic things like tyres, front center hubs, etc. I got most of the missing parts from friends inside and outside the country but I still had to produce some other parts in scratch or look for them in my spare box.
After thoroughly studying many reference photographs I came to the conclusion that there are no two identical cars. Ferrari tried so many different things during that year that the car looked different each race.
---
This tutorial is offered in PDF format to be read or printed using Acrobat reader, contact our webmaster > Here
Includes more than 103 pics, here we show only the text pages.
Esta Nota es ofrecida en formato PDF, el cual puede ser leído o impreso usando el Acrobat reader, contacte a nuestro webmaster > Aquí
Incluye más de 103 imágenes, aquí solo mostramos las paginas de texto.
---
Big size photos are only available in our PDF format.
---
Support us ordering our notes in PDF > Here