Legal Notice
No material from Modeler Site any Web site owned, operated, licensed, or controlled by Mario Covalski & Associated may be copied, reproduced, republished, uploaded, posted, transmitted, or distributed in any way, except that you may download one copy of the materials on any single computer for your personal, non-commercial home use only, provided you keep intact all copyright and other proprietary notices. Modification of the materials or use of the materials for any other purpose is a violation of Mario Covalski & Associated's copyright and other proprietary rights.
Read More here > Legal notice
---
This is my first attempt to convert a Tamiya 1/20 F1 model into another F1 car. This Jaguar R1 project is totally inspired by Alex Kung's R1 project that he did several years ago. Originally I was thinking to build a super-detail 1/20 Ferrari F189 for 2004 Tamiya/Con. Unfortunately, I was too aggressive on the monocoque and has to give up. I started this R1 project couple years ago and then I set it aside. After I know I cannot finish the F189, I decide to bring back the R1 project and build a curbside conversion. It is proven to be a fun project after previous tries on super detailed project.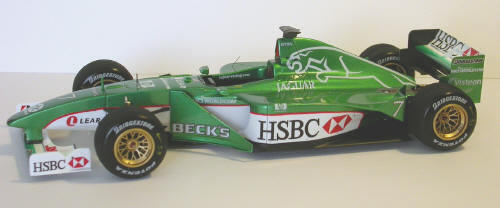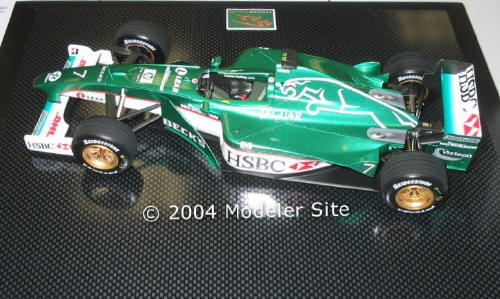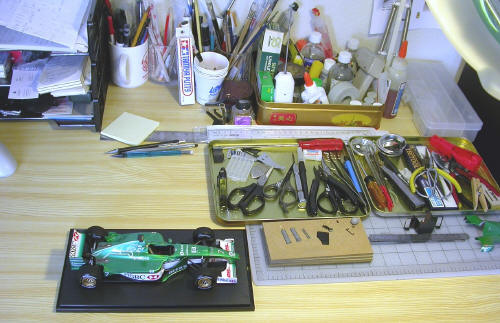 TamCo

n

2004 winner
---
Jaguar R1 is 2000 F1 contender. Originally it was Stewarts racing and Jaguar took over the team in year 2000. Irvine was their number one driver. The car didn't do well at all that year, but the color schema of the car is exceptional.
---
Building
The model I build this time follows the schema in 00 Brazilian GP. Honestly, the conversion I made can only match 60% of the real car if you compare 1 on 1 by the real car photos. But in any case, it is still fun. The model was converted from a Tamiya McLaren MP 4/13 (kit 20046) using the Studio 27 jaguar decals.
This is the main body with gray primer on. I lost a lot of early work pic. In this pic, you can see the modified monocoque aerodynamics, side pod in take and upper exhaust holes.

Main body cowling is glued to monocoque with CA glue and I used plastic tube to simulate the exhaust holes. Bottom part of the monocoque is sawed out so that seat can be inserted from the bottom.

Plastic sheet is added on the side pod intake. Panel separation lines are redefined.

Another angle, it shows redefined panel lines, reshape fuel cap, reposition tow access hole and side wings. Some screw holes are added.

Added side rear wings. Shaved to thin up other original winglets to add more scale look.

Barge boards on R1 is totally different from MP4/13. So I have to rebuild another set. If you take a closer look, R1 front suspension geometry is different from MP4/13 also, but it is beyond my skill to redo it and maintain the toughness to hold up the car.

Primed barge board with gray primer to inspect any defect.

Time for rear wing. I used MP4/13 Japanese rear wing. I extended the rear wing end plate with thin plastic sheet. Then used CA glue and putty to fill up the gaps.

So far so good on rear wing end plates. I use masking tape to cut off the shape for CF decal use.
---
This note is offered in PDF format to be read or printed using Acrobat reader, contact our webmaster > Here
Includes more than 100 pics, here we show only the text pages.
Esta Nota es ofrecida en formato PDF, el cual puede ser leído o impreso usando el Acrobat reader, contacte a nuestro webmaster > Aquí
Incluye más de 100 imágenes, aquí solo mostramos las paginas de texto.
---
Big size photos are only available in our PDF format.
---
Support us ordering our notes in PDF > Here