Legal Notice
No material from Modeler Site any Web site owned, operated, licensed, or controlled by Damian Covalski may be copied, reproduced, republished, uploaded, posted, transmitted, or distributed in any way, except that you may download one copy of the materials on any single computer for your personal, non-commercial home use only, provided you keep intact all copyright and other proprietary notices. Modification of the materials or use of the materials for any other purpose is a violation of Damian Covalski's copyright and other proprietary rights.
Read More here > Legal notice
---
Wingnut modellers could be considered as the hobby equivalent to Junkies, always looking for the next fix to sedate their plastic passion, and this particular kit delivers by the box full!. It's worth spending some time looking over the instructions, especially as there are options depending on which colour scheme you go for. This is one of the reasons I enjoy modelling aircraft from this period, colour, none of your dreary modern Grey stuff here!
---
Building
| | |
| --- | --- |
| No prizes for where we begin, the cockpit and engine assembly require little preparation any mould seams are very light. When ever I can I try to leave the parts attached to the sprue which makes it so much easier to hold whist painting, something that Wingnuts have taken into account . Especially when using oil paints for wood effects and can be easily smudge due to its extended drying time. | |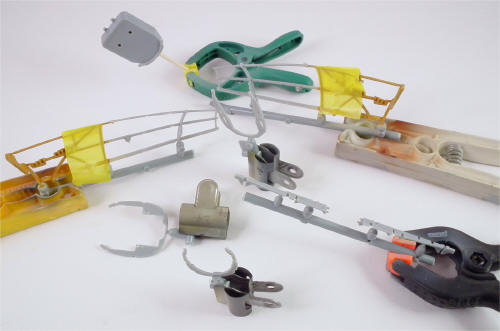 You can never have enough clamps especially the small bulldog versions and are relatively cheap
---
Esta Nota es ofrecida en formato PDF, el cual puede ser leído o impreso usando el Acrobat reader, contacte a nuestro webmaster > Aquí
Incluye más de 66 imágenes, aquí solo mostramos las paginas de texto.
This note is offered in PDF format to be read or printed using Acrobat reader, contact our webmaster > Here
Includes more than 66 pics, here we show only the text pages.