Legal Notice
No material from Modeler Site any Web site owned, operated, licensed, or controlled by Damian Covalski may be copied, reproduced, republished, uploaded, posted, transmitted, or distributed in any way, except that you may download one copy of the materials on any single computer for your personal, non-commercial home use only, provided you keep intact all copyright and other proprietary notices. Modification of the materials or use of the materials for any other purpose is a violation of Damian Covalski's copyright and other proprietary rights.
Read More here > Legal notice
---
Building scale models doesn't always mean to build static reproductions based on plastic or resin kits. Thus there are modelers who using raw materials, make models from scratch, without a commercial kit, others build models from paper, wood, etc or radio controlled ones…For many years, at the same time of building static models, I've been a big fan of radio control; in this way, I built ships, cars, aircraft and of course, I made them operate in the different scenarios they were created for. The aim of this article is to serve as an introduction to the scale RC cars focusing on my latter project, a Fiat Abarth 1000 built from the 1/10 Tamiya kit.

---
RC and scale cars
I'll not expand on speaking about RC cars, just I'll mention that there are two basic types Nitro and electric powered kits that are completely ready to run and in the last years have been gaining more followers due to their higher power and battery durability, and to the new engines technologies. Nowadays we can find electric motors offering the same benefits than nitro engines.

| | |
| --- | --- |
| | |
| Stock 540 motor used in most Tamiya kits | New generation brushless Motor |
In static modeling there are several scales , the most popular are 1/8 and 1/10 scale. I always prefer the last one since there are more kits available and you can display or keep them in a smaller place. RC cars are bigger.
Some examples of 1/10 RC cars four wheels drive.
---
What do you need to build and play with an electric RC kit car?

As in the static modeling, we need tools which don't differ too much from the usual we have in our workshop. Generally, the kits and especially the Tamiya's supply the basic tools. So, what you really need is:

The kit, and later we'll speak about the best choice.

A 7,2 Nickel metal or Nickel cadmium battery with 2000 to 4000 mah capacity.

A battery charger.

A radio system which consists of three mayor parts: the transmitter which is the unit that you hold in your hands to control the car, the receiver mounted inside the RC vehicle and a servo which receives the signals that indicate in which direction it should move and how far.

An ESC (electronic speed control) supplied with many Tamiya kits.
---
4WD versus 2WD
As in reality you can find 2 WD and 4 WD cars. These last ones are gaining popularity in the newer cars and trucks.
The next thing to consider is if you want to race your RC car, off-road (dirt or other types of terrain) or on-road (on paved surface)
The kit I chose for this article is a small 2 WD Tamiya M chassis used for small bodies with 255mm of distance between axles. The most beautiful of this kit is the body that matches the real thing and includes the engine reproduction, etc.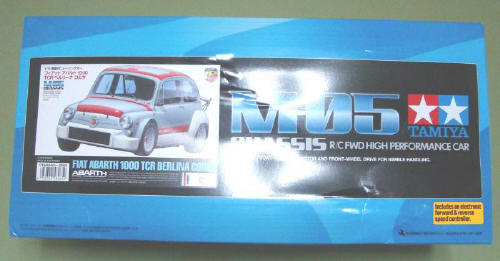 Tamiya #58465
Tamiya manufactured two kits with the same body, one in 1995 and a new release with a new chassis generation which I mention here.


RC Fiat Abarth 1000 TCR - M02 M-Chassis #58158
RC Fiat Abarth 1000 TCR - M05 Berlina Corse #58465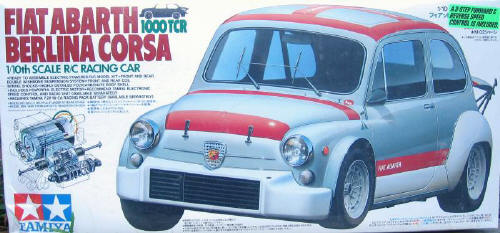 Tamiya #58158
---
Some words about the build
This article doesn't aim at being a step by step guide to building a RC Car, simply you have to be skillful with nuts and bolts and follow the instructions, if your object is not to compete, that will be enough to make your car run and have fun. In my case, I focus on building the car to match the aspect and scale of the real thing, adding details to the body (obsession as any static modeler)

---
This tutorial is offered in PDF format to be read or printed using Acrobat reader, contact our webmaster > Here
Includes more than 101 pics, here we show only the text pages.
Esta Nota es ofrecida en formato PDF, el cual puede ser leído o impreso usando el Acrobat reader, contacte a nuestro webmaster > Aquí
Incluye más de 101 imágenes, aquí solo mostramos las paginas de texto.
---
Support us ordering our notes in PDF > Here
Apóyenos ordenando nuestras notas en PDF > Aquí