Legal Notice
No material from Modeler Site any Web site owned, operated, licensed, or controlled by Damian Covalski may be copied, reproduced, republished, uploaded, posted, transmitted, or distributed in any way, except that you may download one copy of the materials on any single computer for your personal, non-commercial home use only, provided you keep intact all copyright and other proprietary notices. Modification of the materials or use of the materials for any other purpose is a violation of Damian Covalski's copyright and other proprietary rights.
Read More here > Legal notice
---
When thinking about the projects of Sherman(s) I had in mind, I decided not to start with complicated versions but to build standard kits easily available around the market. The different versions would be built by changing parts (turret, hulls, guns, suspensions, etc). When a Sherman Firefly from Dragon came to my hands, I found out that it had a hull from a M4A4 which was really good, though the turret would be of no use for my purposes. So, I had two options: building an Egyptian M4A4 with 75HB turret (High Bustle) or a post war Israeli M50.
---
The Israeli M50
Looking at books (especially the excellent "Israeli Shermans" by Thomas Gannon) I found this last option, more attractive.
In the book, I found a not well defined picture of a M4A4 with a modified M50 turret, but with a Cummins engine instead of a Continental used in the M50s of that epoch.
Another feature was the paint: it was painted in a very dark green tone instead of Sinaí Grey. Also, it had markings on the turret like the Super Sherman M1, handpainted like in 1956.
All these features showed it was a rare thing, considering that the picture was dated 1961 (that means before the change of color, and immediately after the change of engine). This so special vehicle would be my project.
The problem is that there is not any kit available of the M50 WSS like I wanted to do. The options (with HVSS) are from Dragon and MP. The first one can be improved and the second is a very bad kit.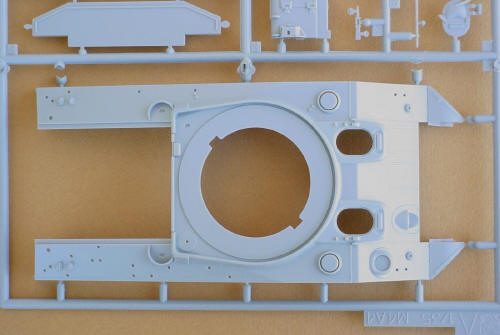 Firefly VC and M50 hull from Dragon, kits #6182 & #3528
---
This special issue is only available in pdf format. This is a technical article of 19 pages. Includes more than 63 high res pictures. > Here
---
Support us ordering our notes in PDF > Here